Adding your recurring income in PocketGuard allows you to see how much money is available to create a budget and calculate your IN MY POCKET.
Setting up your recurring income in PocketGuard is an important step to see the full picture of your financial life. Recurring income not only allows you to calculate your IN MY POCKET, but also to see your upcoming paychecks.
What is recurring income?
This is an income that re-occurs on a regular basis, and you can count on it to pay your bills. For example:
Paycheck;

Rental Income;

Pension;

Alimony;
What is NOT recurring income?
The following are items that you may regularly encounter as credits to your bank accounts but don't want to track as Income on a recurring basis. This could be because these credits are offsetting an earlier purchase or because these are not recurring credits to your accounts and will not be included when calculating your "In My Pocket". This may include:
Expense reimbursements;

Refunds and paybacks;

Monetary gifts;

Side hustles;

Paybacks of a "friendly loan";
How to create my recurring income?
While some recurring incomes are identified by PocketGuard automatically, others must be added manually.
To add a recurring income manually, do the following:
Hit

Estimated income

;

Tap the "+" sign in the top right corner;

Choose a transaction that should be a recurring income or add your income manually;

Enter the name of your income, its amount, frequency, and choose the next deposit date.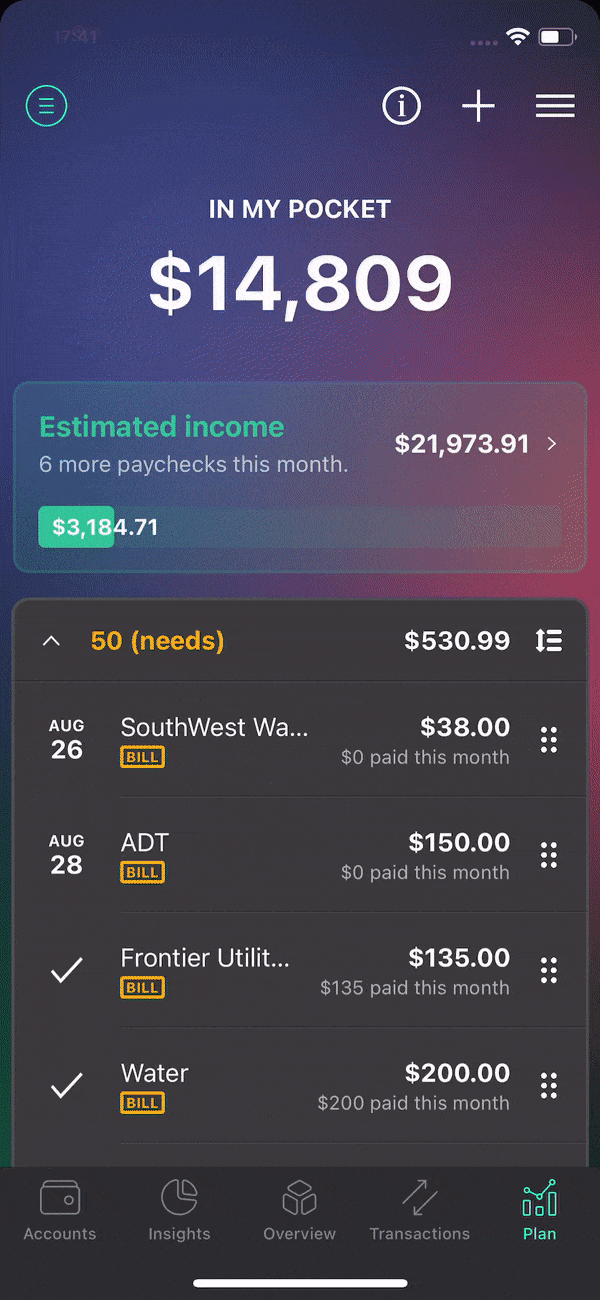 You can also go to the "Transactions" tab and locate your transaction. Tap the transaction to open the details info and hit Mark as income above transaction details.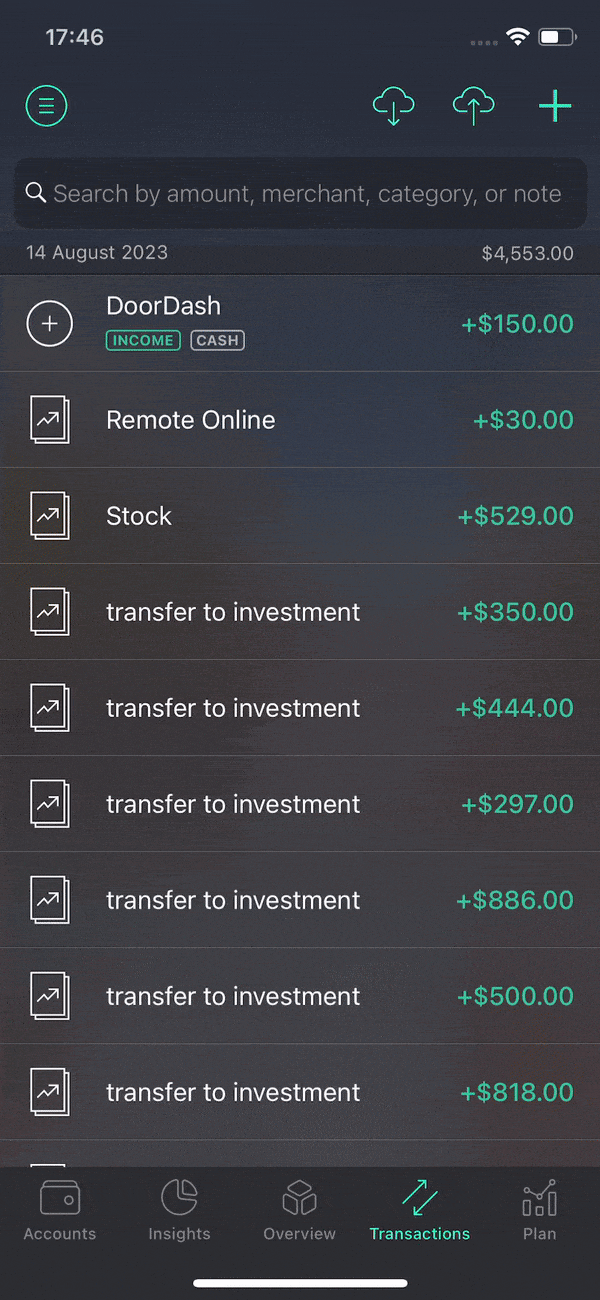 Auto-repeat income
Let PocketGuard automate your tracking process with the auto-repeat feature. Just create an auto-repeat income, and we will automatically create cash transactions for your income.
To create an auto-repeat income, follow these steps:
1. Go to the "Next Paycheck" section;
2. Tap the "+" icon in the upper right corner;
3. Hit Add income manually;
4. Toggle ON the "Auto-repeat" option;
5. Fill in the required information:
Next deposit date (required);

Account (required);

When the income period ends (optional);
6. Hit Save.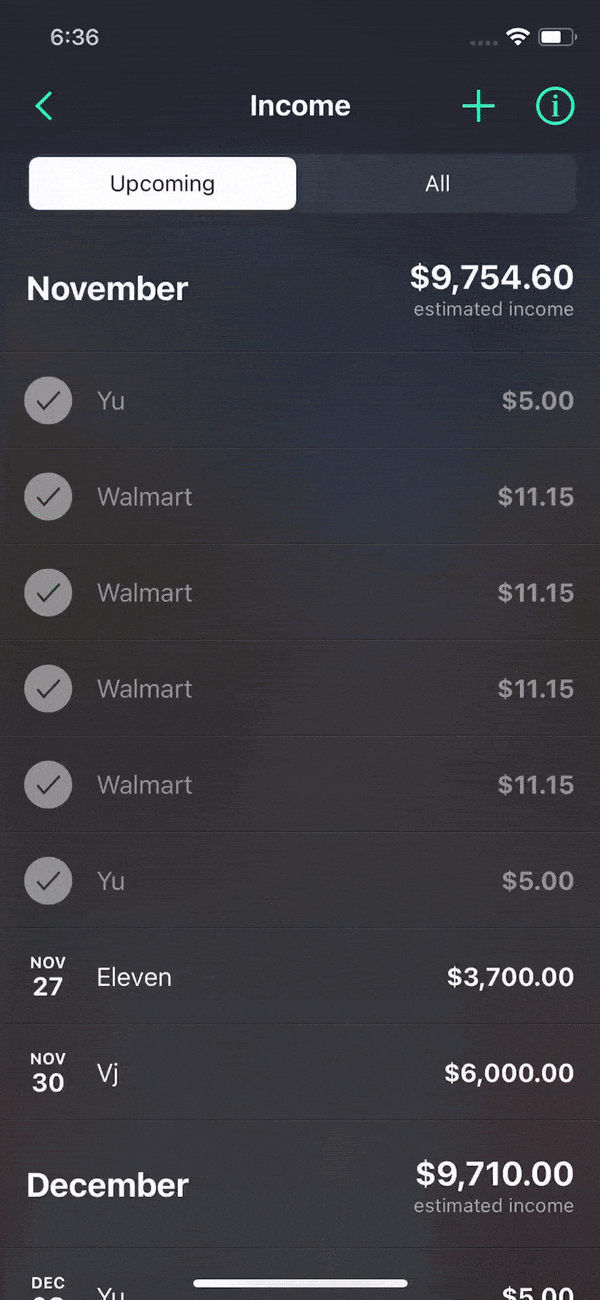 Predicted income
Once the recurring income is created, PocketGuard will look at your transactions and tag them with a "recurring income" stamp. You will see a breakdown of your already received and predicted incomes for this and the next month.
Next deposit dates will help you to plan ahead, and past due dates will indicate that the income wasn't received.
The amount of the upcoming income is calculated based on the recurring incomes you received previously or the amount you entered manually.
Skip predicted income
Now you can skip predicted income payments if you have already received the deposit, but PocketGuard was unable to recognize the transaction as a part of your recurring income.
Swipe left on the predicted payment and tap the "X" button.
If you accidentally skipped your income, you can update the "Next due date" for this income.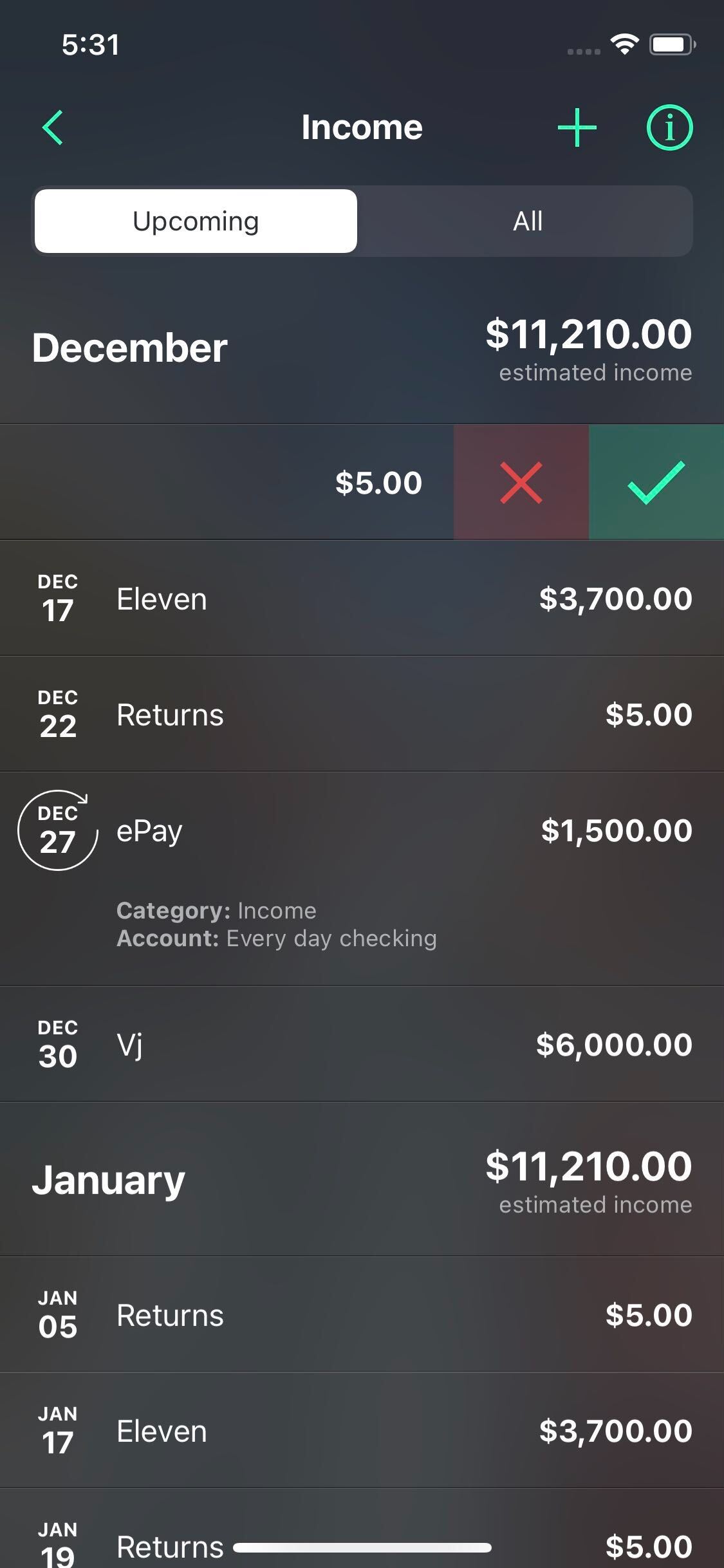 Received income
The recurring income is marked as received when we see a new transaction that matches the income name and it's in the "Income" category as well.
If unrelated items are showing up in your recurring income, it is most likely due to the merchant name of that transaction matching the merchant name on your income.
For example, we will look at reimbursements for corporate expenses.
Let's say your paycheck shows up as a credit with the merchant name "John Doe Company Inc." Once you tag that transaction as income, PocketGuard begins to pick up those transactions every month and display them in your recurring income.
One day, you purchase lunch for your team and your company reimburses you via direct deposit. This transaction then shows up in PocketGuard as "John Doe Company Inc." as well.
In this case, that reimbursement will be incorrectly detected as part of your recurring income due to the merchant name being an exact match to that of your originally tagged recurring income.
If this happens in your PocketGuard account, simply modify the merchant's name on the transaction. Go into the transaction and either rename it completely or simply add an asterisk or another character to the front of the name. Note that you need to apply the change to this transaction only or you will simply rename the whole income.
If you have a 'twice a month' income, our algorithm will expect two transactions within this month. When the transactions are pulled to the app, the income will be marked as received even if the date or amount is different from the one you expected.
Mark as received
In case a transaction didn't match an income name, you can manually mark your income as received.
To do that, please complete the steps below:

Swipe an income you'd like to mark as

received

;

Hit the ✅

icon;

Select a transaction or create a new one and hit Continue.
NOTE: the transaction will be renamed to your income name and categorized as "Income" in order to associate it with the income.
"Just once" income
The "Just once" option is intended to plan for non-recurring incomes you expect in the future. If there's a one-time income that has already occurred, just make sure it's categorized as "Income," and it'll count as received income in the respective month.
When we receive a transaction that matches an expected "Just once" income name or you skip the payment, PocketGuard will automatically move it to the "Inactive income" section.
How to edit or delete a recurring income?
You can edit or delete a recurring income when you are surfing the list of your upcoming and paid incomes. Tap the recurring income and hit on the green badge under the income name to edit it, or hit the "Delete income" button for deletion.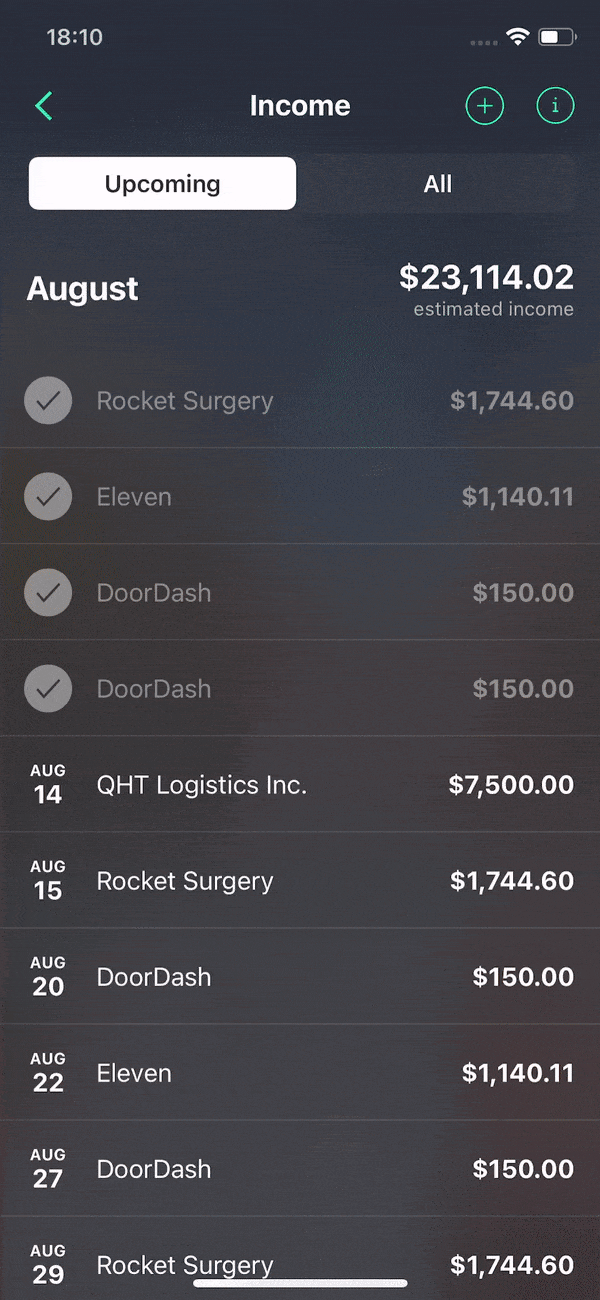 Tap All Incomes to see the list of all active and inactive incomes. Swipe left on the income you would like to edit or delete.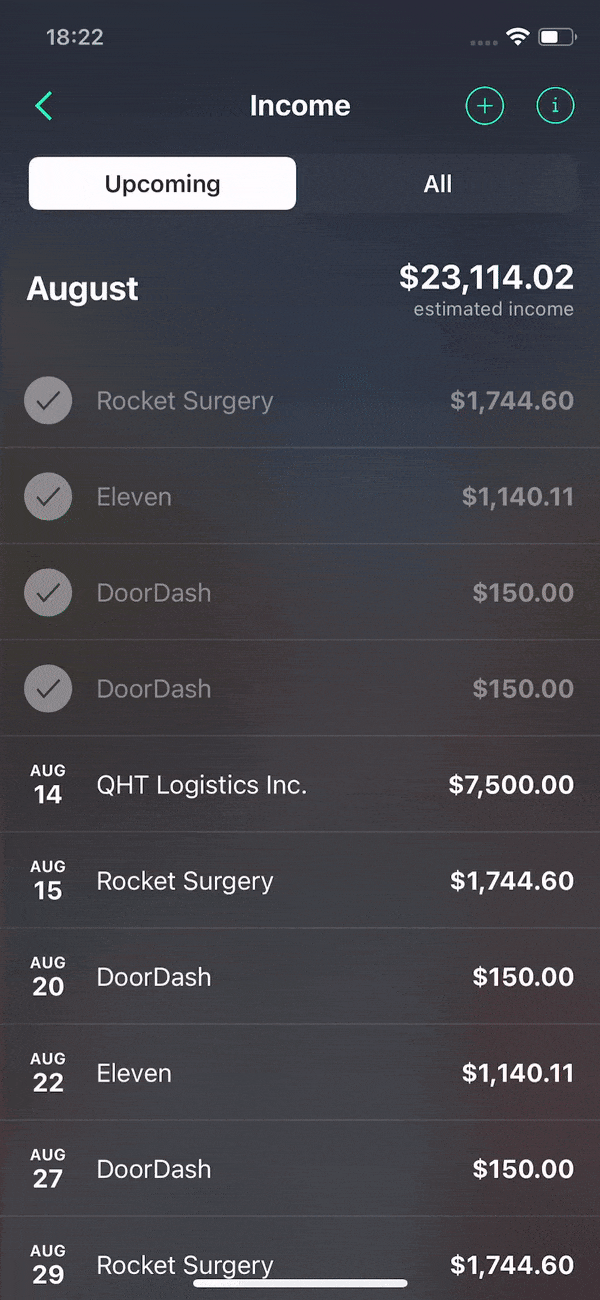 You can't edit the income name, as this is basically the same as creating a new one. However, if you modify the merchant's name on the income transaction and apply the change "For ALL transactions," the recurring income will also be updated.
Inactive income
To stop planning for a recurring income, hit the "Mark as inactive" button in the income details. It will then be moved to "Inactive income" in the "All recurring incomes" section.
If you ever want to resume planning for your inactive income, please hit the "Mark as active" button.
Scan to install