What is "In My Pocket"?
Simply put, "In My Pocket" shows how much money is left for everyday spending after all your bills and subscriptions are paid.
How does "In My Pocket" work?
You should remember that connecting all your checking and credit accounts is essential for In My Pocket calculation. PocketGuard will try to identify your Recurring Income and Bills. Moreover, this will help to calculate your total spent amount. We also include your Goal contributions in the calculations. 
How do we calculate "In My Pocket"?
Your "In My Pocket" starts over on the 1st of each month. Swipe the "In My Pocket" to change it to Weekly or Daily.
The equation for the monthly IMP looks like this:
IMP = Income + Cash Rollover - Upcoming bills - Spent - Savings goal
Income - your earned and upcoming income (Recurring Income). Earned income is calculated as a sum of all transactions with "Income" category.
Cash Rollover - the cash balance remaining from the previous month (this feature is optional and you can enable it in the settings).
Bills - your paid and future bills (Bills).
Spent - the money you've already spent, paid bills are not included (Net Income > Spent).
Goals - the sum of all

 monthly contributions for your Goals

 (Goal).
You can also tap "i" to see the breakdown of your "In My Pocket".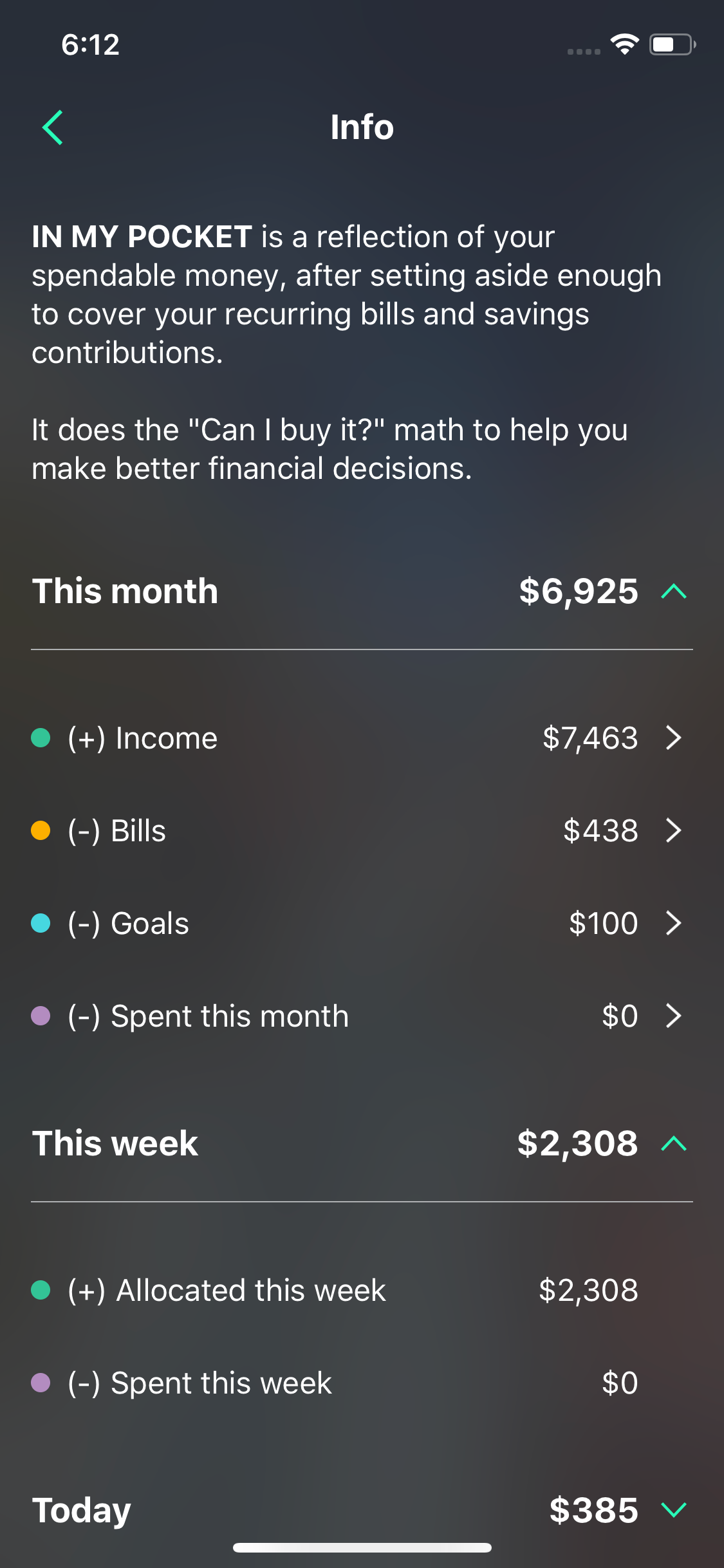 Do transfers count towards "In My Pocket"?
PocketGuard automatically detects transfers between your banks and credit cards and excludes them from calculations, to avoid double counting.
To change that, just toggle the "Don't count" option off for a specific debit transaction (marked with "FROM" stamp) or credit transaction (marked with "TO" stamp).
My "In My Pocket" is negative even though I have money in my account. Why is that?
Your "In My Pocket" is unrelated to your available balance and solely depends on your income. If you have unusual spending like paying taxes or planning a vacation out of your savings, we recommend marking excluding the transaction from calculations (Transaction details > toggle "Don't count").