Add and customize your own categories or enable additional pre-defined ones. Get even more detailed budgeting and even more insight into your spending habits. You can see the additional categories in your spending pie chart and set Category budgets for them.
How the whole thing with the additional pockets works?
For example, let's take a look at "Auto & Transport" expenses. Those who can't imagine their life without a car will definitely like the option to take a more detailed look at their car spending such as "Gas & Fuel", "Parking" or "Service & Parts" because such expenses usually make a huge part of their budget.
Spending a fortune on your hobbies or pets? Eating out at your favorite restaurant every day and don't miss any movie official release? Making regular donations or savings?
You can now track everything you wish! Just choose an icon, name your category using up to 30 characters, and you are good to go. Yes, emojis are also available 😉
How to create my own categories?
It's as simple as this:
Tap the transaction and go to details;
Hit a transaction category;
Tap "Create a category";
Choose the icon and fill in its name.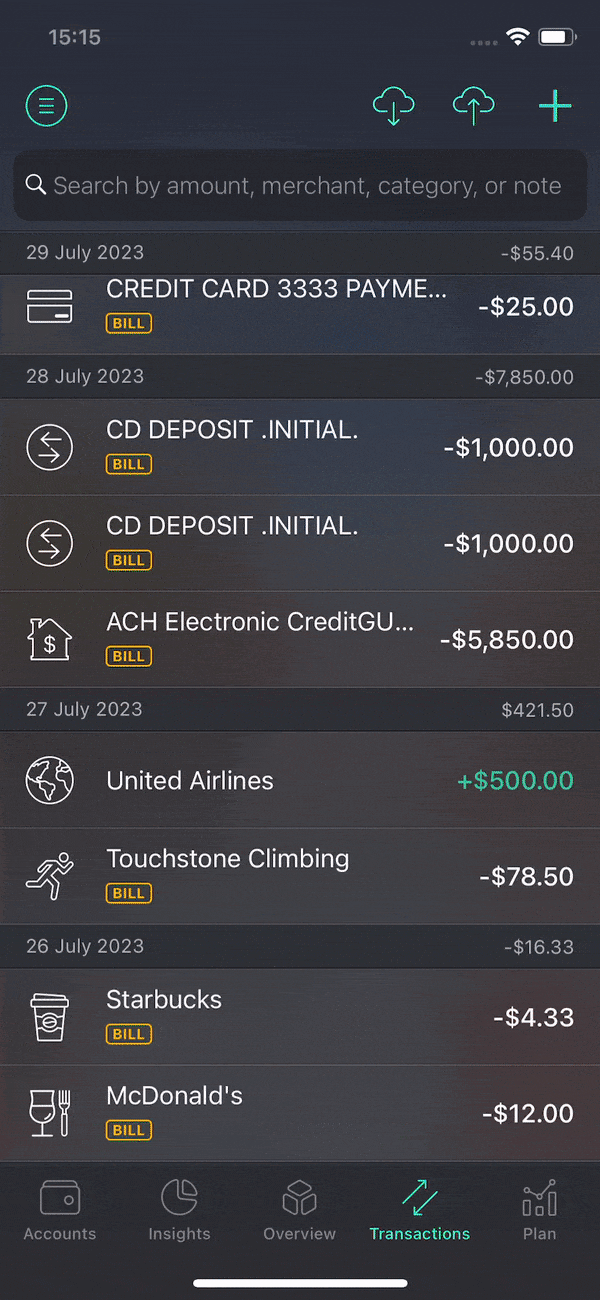 Note that you cannot use the same icon or name twice.
How to delete and manage my custom categories?
Swipe left on the category you would like to edit or delete. If you change the icon or the name of the category, all the transactions with this category will be updated automatically.
What happens if I delete the custom category?
All the transactions will revert to their original categories.
Category budgets will be deleted.
The categorization rules you have applied before will no longer work.
Cash transactions become "Uncategorized".
What happens if I cancel Plus?
We will not delete your categories, and they will be present in the list, however, you won't be able to apply any of them to the transactions. If you upgrade your profile to Plus again, feel free to use the categories again.
Should I add a custom category or use a #hashtag instead? What's the difference?
Use custom categories to track things you buy regularly. Use #hashtags to track spending for holidays, events, or trips.
Feel free to contact us at support@pocketguard.com if you have any questions or issues. We would be happy to assist!
Scan to install