What is "IN MY POCKET"?
IN MY POCKET shows how much money you can save or spend on everything else, after setting aside enough to cover your Bills, Budgets, and Goals.
How does "IN MY POCKET" work?
You should remember that connecting all your checking and credit accounts is essential for In My Pocket calculation. PocketGuard will try to identify your Recurring Income and Bills. Moreover, this will help to calculate your total spent amount. We also include your Goal contributions in the calculations.
How do we calculate "IN MY POCKET"?
In order to get the correct IN MY POCKET amount, we subtract all expenses that you have broken down by sections from your income. Thus, you will always know where your money goes and how much you can spend or save at the end of every month.
For example, you have created several sections, let's say - budgets ($500), household chores ($300), and bills ($1000). In this case, your IN MY POCKET will be equal to income ($3000) minus budgets, household expenses, and bills = $1200.
IN MY POCKET starts over on the 1st of each month and shows how much money you have for monthly or daily spending.
NOTE: leftovers are not rolled over to the next month. In PocketGuard the leftover money is considered as savings. Thus, to roll over the leftover amount to the next month, you should create a cash income transaction for the same amount as the leftover in the next month.
Important: the "Estimated income" and "Other categories" sections cannot be modified or deleted. However, you can drag and drop "Other categories" to one of the sections. Besides that, all transactions in unbudgeted categories are listed in the "Other categories" section as well as paid bills.
You can also hit See your budget to see the breakdown of your "In My Pocket".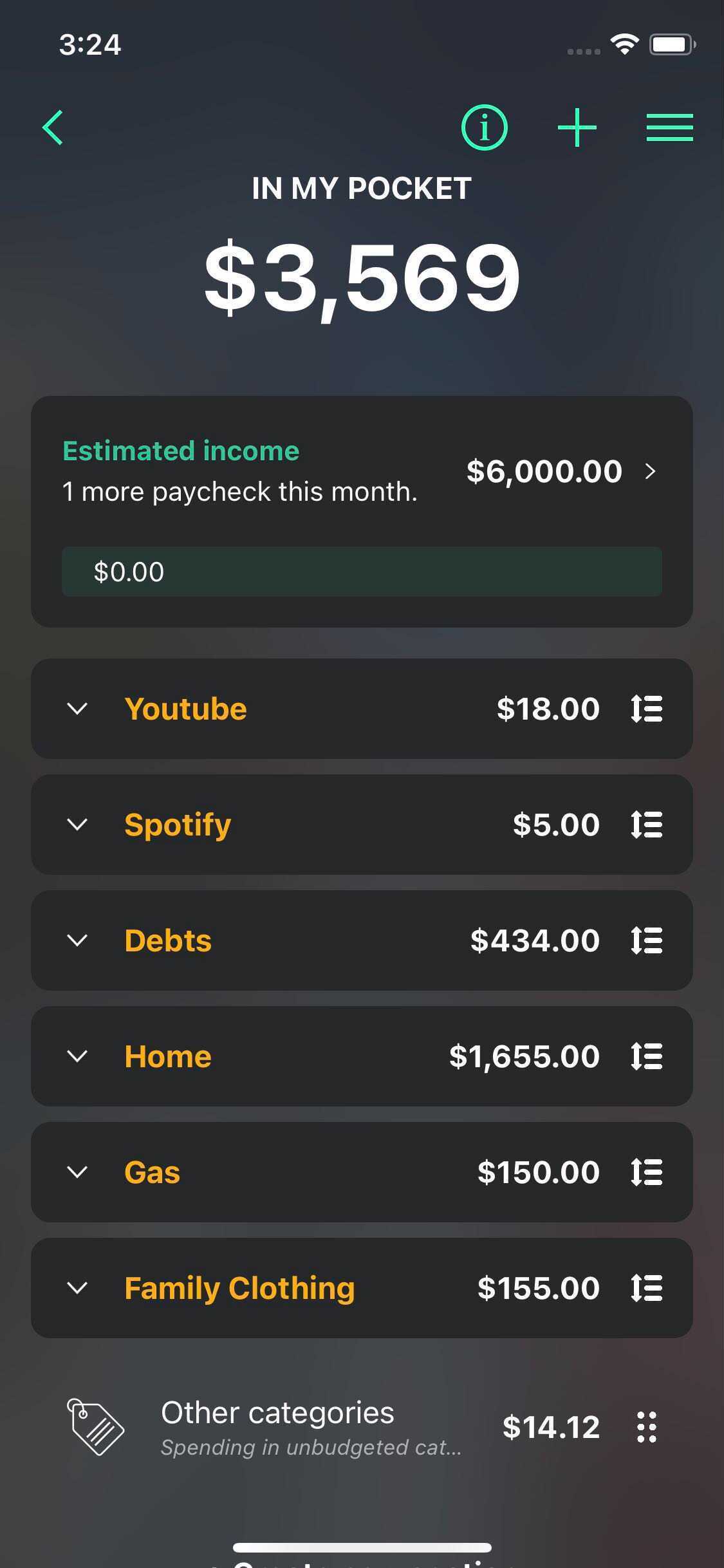 How to customize "IN MY POCKET"?
PocketGuard allows you to get the necessary context of your expenses by breaking them down into sections so you always know how much money you spend on home-related cases, or hobby, or any other aspect of your life. You can move items/sections just by dragging them from one place to another to order them the way you want.
To create a section you should do the following:
Hit

See your budget

on the Overview tab;

Hit

+

in the upper right corner;

Enter a section name and choose Save

;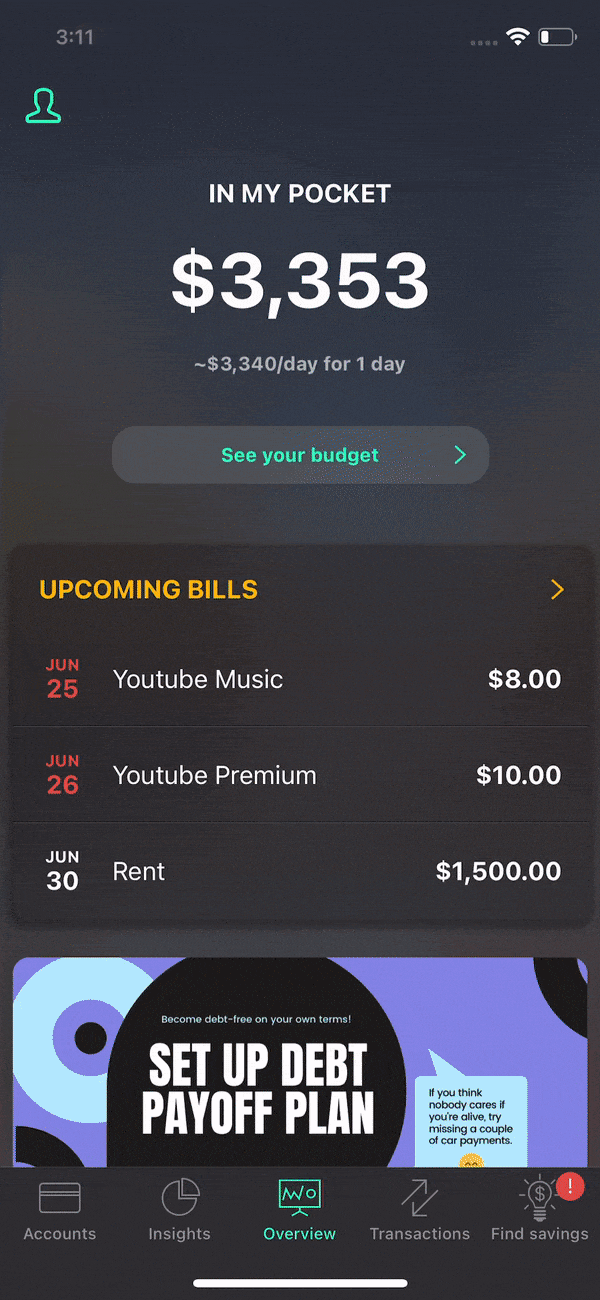 To rename a section, please complete the following steps:
Locate the section you'd like to edit;

Hit

Edit section

;

Select

Rename section

;

Enter the new section name and hit Save

.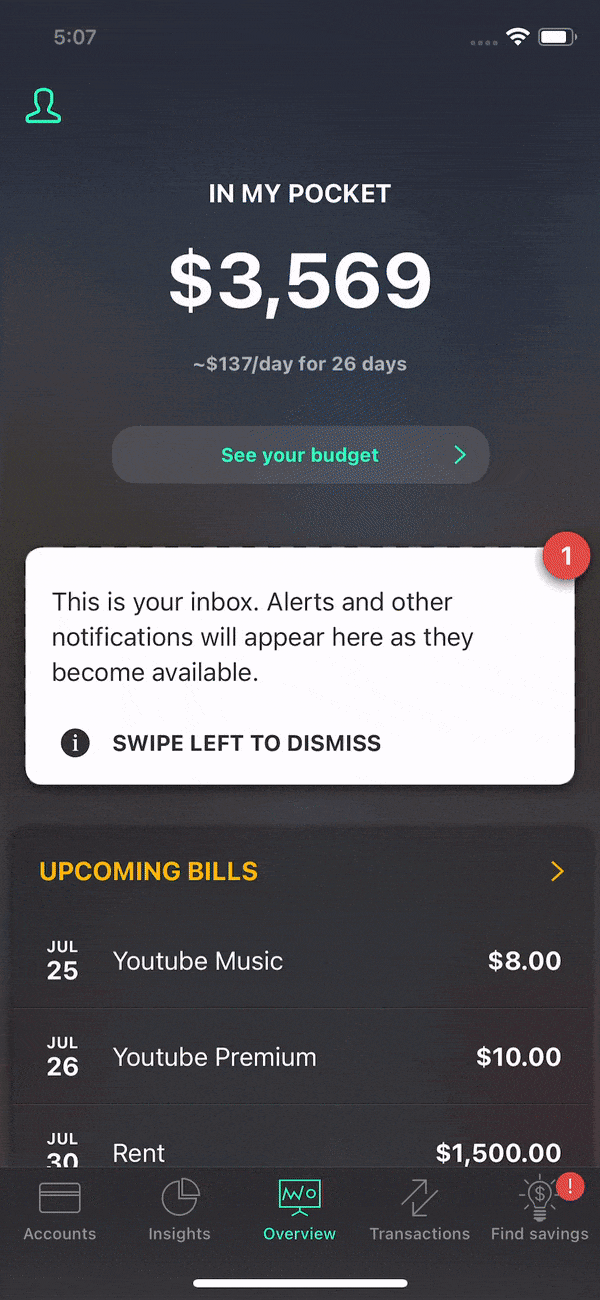 Once you decide to delete a particular section, you will have a choice to place all items below sections, so you can sort them later or migrate contents to another section.
To delete a particular section, please do the following:
Locate the section you'd like to delete;

Hit

Edit section

;

Toggle ON if you want to migrate contents;

Select Delete section

.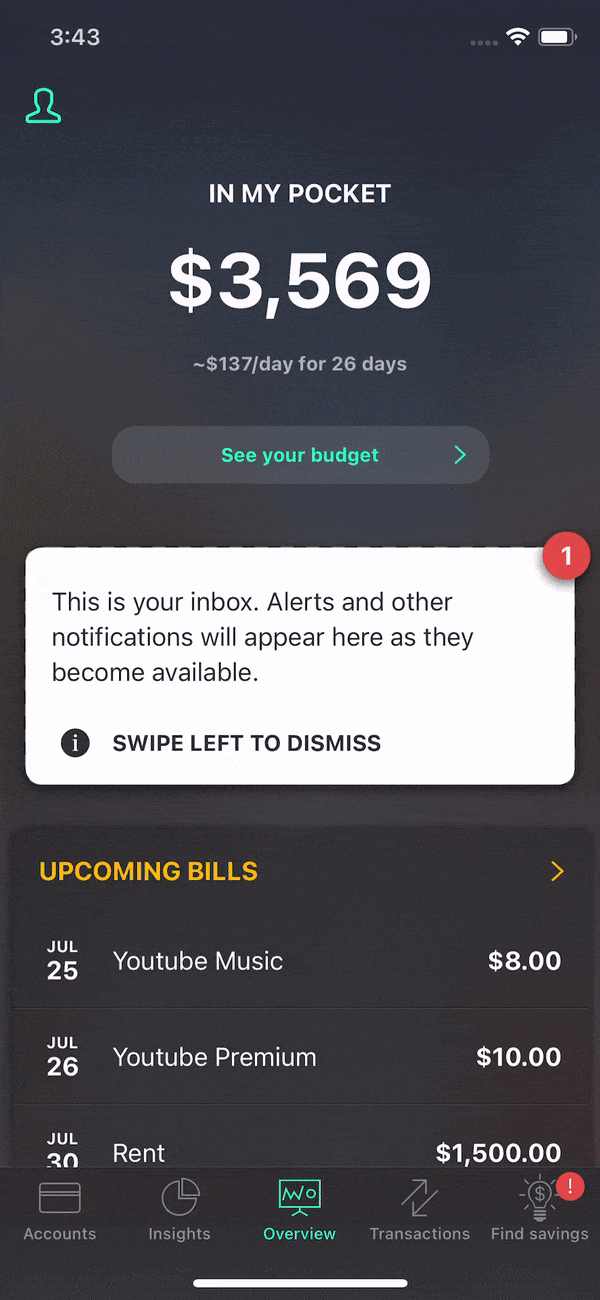 Do transfers count towards "IN MY POCKET"?
PocketGuard automatically detects transfers between your banks and credit cards and excludes them from calculations, to avoid double counting.
To change that, just toggle the "Don't count" option off for a specific debit transaction (marked with the "FROM" stamp) or credit transaction (marked with the "TO" stamp).
My "IN MY POCKET" is negative even though I have money in my account. Why is that?
The idea behind IN MY POCKET is to help users spend less than they earn. This is why your IN MY POCKET is unrelated to your available balance and solely depends on your income. If you have unusual spending like paying taxes or planning a vacation out of your savings, we recommend marking excluding the transaction from calculations (Transaction details > toggle "Don't count").