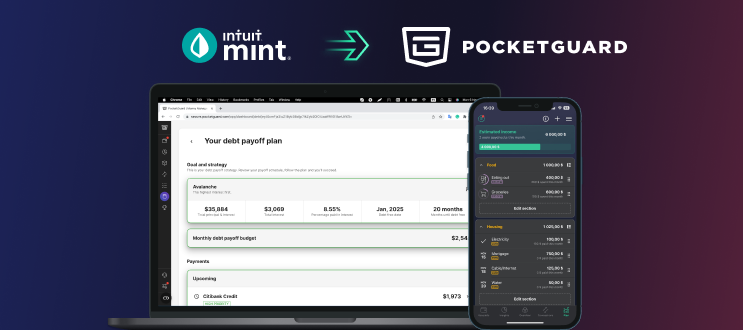 Unfortunately, on November 1st, Mint announced its closure that will be on January 1st, 2024. Since then more and more users have kept switching from Mint to PocketGuard as a worthy alternative to their favorite app. If you are still looking for the best finance tracking app to switch to, we hope this article will help you to make up your mind. Feel free to learn more about why PocketGuard is better than Mint.
PocketGuard is an easy and user-friendly app. It takes minutes to set up and a single day is enough to make you feel like you've been using it for years. PocketGuard's main goal is to let you see the full picture of your finances and make better financial decisions.
Here's what you should do to switch to PocketGuard:
Register a new account.
Link your accounts.
Review and edit recurring merchants (income & bills) that our algorithm will find.
Use PocketGuard general spending categories or create custom categories and icons.
Organize your monthly budget plan and complete our personal finance course.
Voila! Continue reading to find out more about the features and options you can use at PocketGuard.
Is PocketGuard free?
Yes, you can install PocketGuard and use all the basic features essential for successful budgeting at no cost. Besides, for those who want to dig deeper, we have added a PocketGuard Plus plan. Read more about PocketGuard Plus.
How can I import my data from Mint to PocketGuard?
To do that, you just need to download your Mint transaction history in a CSV file (or any history from your financial institutions) and use our Import Transactions feature that can be found on the Transactions tab or Settings.
1. Go to Settings in PocketGuard
2. Hit Import transactions
3. Find Mint from the list of all samples
4. Attach your Mint CSV file
5. Choose accounts that will be used to import transactions
6. Hit Save
Is PocketGuard secure?
SECURITY IS OUR #1 PRIORITY.
• We use bank-level 256-bit SSL to protect your sensitive information;
• We establish a read-only connection to your bank, so nobody, not even you, can move money from your account using PocketGuard;
• Your data is also protected with Touch ID and a 4-digit PIN that only you know, so, even if your mobile device is lost or stolen nobody can access your data.
Does PocketGuard have a web app?
Yes, please check https://secure.pocketguard.com/app/sign-in. Please note, that you should contact us at support@pocketguard.com in case you'd like to manage the subscription purchased through the web app or request a refund.
Does PocketGuard have my financial institution?
PocketGuard currently supports about 18,000 financial institutions, so the chances that you will find yours are really high. Note that PocketGuard uses two different data providers - Finicity & Plaid. In case, you weren't able to find your bank with Finicity or received a connection error, you could always try using the second provider (Plaid) for free. If both didn't succeed, contact us at support@pocketguard.com. By the way, we support manual tracking that can be used for unsupported financial institutions or assets.
What exactly you can get at PocketGuard:
• Easily sync all of your personal finance accounts in one place: bank accounts, credit cards, loans, savings, and investments;
• Track your net worth change over time;
• Track your cash flow broken down by recurring expenses and variable spending;
• Your budget is built automatically, based on your spending and earning patterns;
• Track your income;
• Track bills and recurring subscriptions;
• Set and reach your financial goals;
• Create Category budgets;
• Set up a personal debt payoff plan;
• Complete a personal finance management course;
• Use hashtags to build custom spending reports;
• Lower your bills;
• Track cash;
• Cancel unwanted subscriptions;
• Transactions automatically categorized into "categories" show you where your money goes at a glance;
• Never miss a credit card bill or loan payment;
• Get alerted to bank fees and unwanted charges;
Does PocketGuard support Transaction Monitoring and Verification?
You can add notes to the transactions as "Checked" or "Reviewed". Moreover, you can exclude a particular transaction from the calculation.
We always welcome your feedback. If you have questions, need help, want to share your idea, or request new features, please contact us at support@pocketguard.com
Or scan to install