Whether you want to save money or pay off debt, it's easier to do with Goals!
What is the Goal feature?
In order to track your goal progress, it's necessary to link one of your accounts. The progress is tracked by matching balance changes to the linked account (Goal account):
every time you deposit money to the Goal account, you will make one more step to set aside enough for a dream vacation or for the retirement;

if you withdraw or spend money from the Goal account, you will move away from completing the goal;
How to create a Goal?
If you had no other choice but to dip into your Goal account, your "TO GO" amount will be increased. Because now to reach the Goal, you will need to transfer the contribution amount of the goal and to return the money you've taken from the account.
Creating a Goal in PocketGuard is quite simple:
Go to the "Goals" section

and hit "+" in the upper right corner;

Choose a type of the Goal;

Enter a name and choose an Emoji to make this personal;

Enter the target amount (optional);

Link your goal to an account (1 goal can be linked to one account);

If you don't have one yet, you can easily open the top-notch savings account recommended by the app;

Enter the monthly contribution which will be factored in when calculating In My Pocket (optional);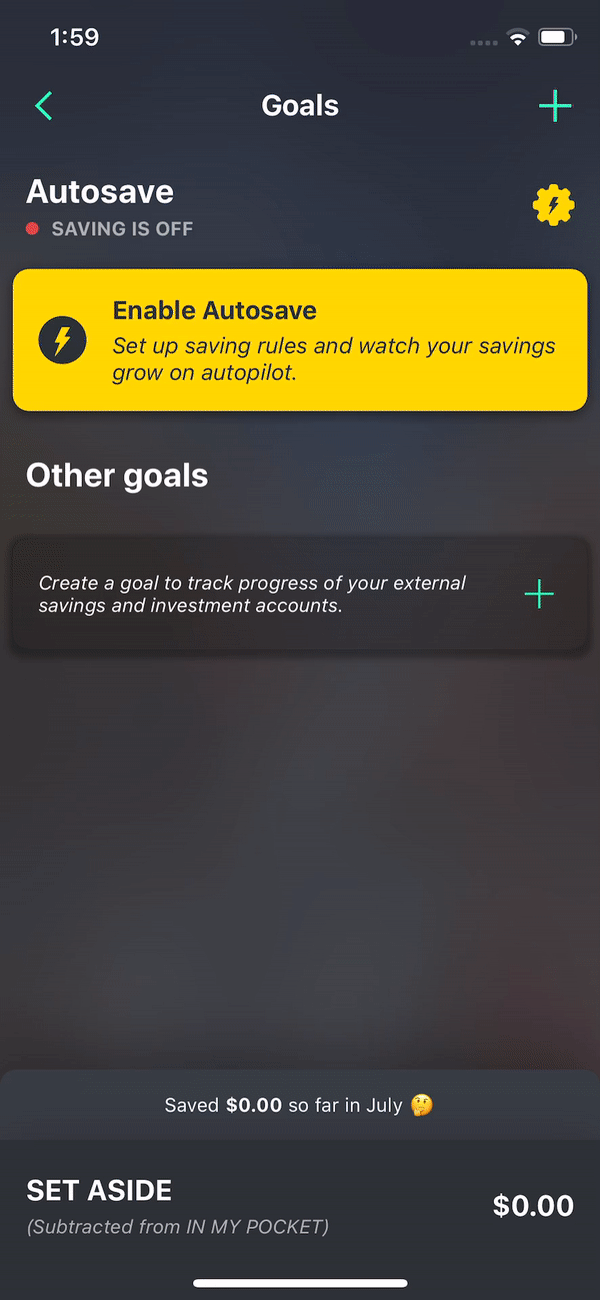 Glossary and navigation:
Goal balance

- the balance of the Goal account;

This month Goal progress

- the net amount you saved this month. The positive sign means that you are on a way to complete the Goal. The negative sign means that the credits to this account were counted against your Goal;

Monthly contribution

- the money you set aside from In My Pocket every month to achieve towards your goal;

Total Monthly contributions

- monthly contribution will be deducted from In My Pocket every month. Set monthly contribution to zero if you don't want it factored in your In My Pocket;
What are the benefits for Plus subscribers?
If you are a Basic customer, you can create one Goal and link an account to it. Choose any of the accounts apart from Cash.
If your profile is upgraded to Plus, you can create as many Goals as the accounts you've linked to the app including Cash.
If you cancel the subscription, your first Goal remains as active. The rest of the Goals become available only when you upgrade to Plus again.
How to edit or delete a Goal?
Tap the Goal;

Hit the ••• button in the upper right corner;

Choose delete or edit options;