If you want to cut a specific kind of expense, the best you can do is to set a spending limit.
To set a spending limit you should do the following:
Go to Plan;
Tap "Spending limits";
Tap the "+" icon in the top right corner;
Choose a category you want to set a limit for;
Enter the amount.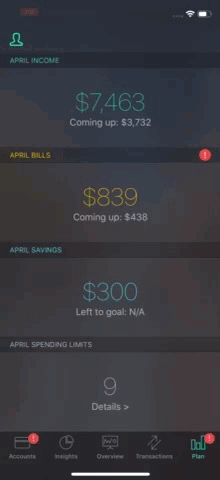 If you are about to exceed a limit and curious where did your money go, tap a category and view all transactions.
Please note that your refunds and returns are factored in Spending limits calculations, so some of your limits can even be positive.
What happens if I overspend?
The line under a spending limit will turn into bright orange and show the overspent amount (see the Auto&Transport category on the screenshot above)
Besides, spending limits roll over to the next month, but you can change them anytime.
How to edit or remove a spending limit?
Swipe a limit left to see the "Edit limit" or "Remove" options.